Chordata
---
Bathypterois grallator (Tripod fish)
Abigail Kuhn

Tripod fish - Bathypterois grallator
Kingdom: Animalia

Phylum: Chordata

Class: Actinopterygii

Order: Aulopiformes

Family: Ipnopidae
Figure 1. A picture of a tripod fish from the Tiburon ROV (courtesy of the Monterey Bay Aquarium Research Institute).
(http://marinebio.org/species.asp?id=1641)
Importance to deep sea biology:
These fish do not appear to have any importance commercially and are not currently endangered or threatened. The International Union for Conservation of Nature (IUCN) has not yet assessed the conservation status of the tripod fish. Due to its much larger size, and therefore greater food requirements, it is likely that Bathypterois grallator is generally less abundant than the other smaller species in its genus (Sulak 1977).
Distribution
Figure 2. The known distribution of the tripod fish (Sulak 1977).
Figure 3. A computer-generated native distribution map for Bathypterois grallator (Tripod fish).
(http://fishbase.org/Country/CountrySpeciesSummary.php?c_code=044&id=9136)
The tripod fish has been found to dwell at depths ranging from 900 to 4,700 m (2,950 to 15,400 ft). It is found in the abyssal zone of the deep ocean waters of the Atlantic, Pacific, and Indian Oceans. Sulak (1977) described Bathypterois grallator as extremely eurybathic, meaning it can withstand a wide range of depths.
Types of environments
The tripod fish is a solitary, benthic species, typically living close to the ocean floor and "perching" on the substrate with its elongated pelvic and caudal fin elements. Each elongated element has a pad at the end that helps protect the rays. These structures contain no sensory cells and are most likely only used to "perch" on the ooze of the substrate (Davis and Chakrabarty 2011).
Feeding Ecology/Strategy
Tripod fish spend most of their life on the seafloor waiting for a meal to pass by in the current. They "perch" on their elongated pelvic and caudal fin elements, waiting for small crustaceans and zooplankton. The modified pectoral fins of the tripod fish are thought to be a mechanism for sensing movement of prey items nearby, which could be beneficial considering the dark, low-food conditions of the deep sea. Gage and Tyler (1991) suggested that with their well-developed lateral line system, tripod fishes are probably extremely sensitive to vibrations from their swimming prey.
Appearance and other species it closely resembles
The tripod fish gets its name from its elongated pelvic and caudal fins, typically called rays or elements. These seemingly rigid rays or elements are used to stand on the sea floor, but they have been shown to be flexible when the fish swims away. The outstretched pectoral fins resemble antennae. The eyes of the tripod fish are significantly reduced. The average size of the fish is about 30.0 cm (12 in) with a maximum length of 37 cm (14 in). Despite the small size of the fish itself, the modified fins elements can grow to almost 1 m (3.3 ft), which is approximately three times the length of its body. There are about 18 other species in the genus Bathypterois. Bathypterois grallator is the only species in the genus with pelvic fin rays that are longer than its standard length. Each pectoral fin is undivided and the adipose fin is not present (Franco et al. 2009). The tripod fish shares many characteristics with the spider fish (Bathypterois longipes).
How observations have been made
Observations of the tripod fish have been made with the use of remotely operated vehicles (ROVs) in the deep sea. Davis and Chakrabarty (2011) used a Triton XL32 ROV operated by Technip. They were able to record 31 seconds of a tripod fish at a depth of 1,443 m in the Campos Basin in Brazil. The ROV Deep Discoverer captured an image of a tripod fish during the NOAA Okeanos Explorer Program in the Gulf of Mexico in April 2014.
Figure 4. A picture of a tripod fish taken during the NOAA Okeanos Explorer Program.
(http://capeandislands.org/post/how-live-stream-video-catalyzing-ocean-research)
Other interesting information
The tripod fish is simultaneously hermaphroditic, which means that it possesses both male and female reproductive organs and is capable of self-fertilization. The tripod fish's scientific name is derived from the Greek word "bathy", meaning 'deep', and "pterois", meaning 'feathery'. In Latin, "grallator" means 'one who walks on stilts'. Videos taken by an ROV for an experiment showed that tripod fishes exhibit a "bathypterioform" swimming pattern, which is unique to the genus Bathypterois (Davis and Chakrabarty 2011). Tripod fishes are negatively buoyant, and lack a swimbladder or other means of buoyancy (Gage and Tyler 1991).
(If you cannot view the video, please click here!)
Works Cited
"Aquarium of the Pacific." Aquarium of the Pacific. Web. 30 Jan. 2015. <http://www.aquariumofpacific.org/onlinelearningcenter/species/tripod_fish>.
Davis, M., and P. Chakrabarty. 2011. Tripodfish (Aulopiformes: Bathypterois) locomotion and landing behavior from video observation at bathypelagic depths in the Campos Basin of Brazil. Marine Biology Research 7:297-303.
Franco, M. A. L., A. C. Braga, G. W. A. Nunan, and P. A. S. Costa. 2009. Fishes of the family Ipnopidae (Teleostei: Aulopiformes) collected on the Brazilian continental slope between 11° and 23° S. Journal of Fish Biology 75:797-815.
Gage, J. D., and P. A. Tyler. 1991. Deep sea biology: a natural history of organisms at the deep-sea floor. Cambridge University Press, Cambridge, UK.
Ocean: The Definitive Guide. Rev. ed. New York: DK Pub., 2014. Print.
Sulak, K. J. 1977. The systematics and biology of Bathypterois (Pisces, Chlorophthalmidae) with a revised classification of benthic myctophiform fishes. Galathea 14:49-108.
---
Chauliodis sloani (Viperfish)
Nathan Chronister

Viperfish (Chauliodus sloani)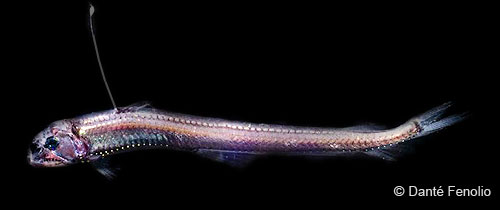 The viperfish (Chauliodus sloani) is a fearsome looking predator of the deep. Its teeth are so large that they can not fit in its own mouth. In fact, two teeth on the bottom jaw fit in grooves near the fish's eyes. Anglerfish have very similiar teeth but are much stockier than the viperfish which is more ribbon shaped. The life span of this deep sea predator is not really known but some estimate the viperfish to reach an age of 40 years. It is a relatively small fish growing to a maxium of 12 inches in length. They use bioluminescence to communicate as well as to attract prey. The large projecting dorsal fin ray is equipped with a photophore (bioluminescent organ) which is use as lure. It flashes on and off to attract prey.
Distribution and Environments
Chauliodus sloani is distributed widely, both geographically as well as vertically through the water collumn. They are found all over the world in temperate and tropical regions from 63 north to 50 south lattitudes. Viperfish are commonly found in depth of 200 to 1000 meters but larger specimens are found much deeper (2800 meters).
Feeding and Predation Strategies
Viperfish are still predators. They hover motionless in the water collumn turning their dorsal fin ray photophore on and off as they wait for prey to come close. When suitable prey come within reach the viperfish launches an attack. It swims as fast as it can and tries to spear the prey with its oversized teeth. The viperfish has a wide array of adaptations to allow it to survive in an environment divoid of nutrients. It's teeth are oversized and it jaws are hinged to allow gaping mouthfulls. A viperfish can eat another organism 63 percent its own length(Creatures). The viperfish travels up and down the water collumn in search of food. It can be found in shallower water at night where it feeds and during the day it sinks back into the depth. They prey upon small fish and crustaceans.
Reproduction
Little is known about the life history of the viperfish. Scientist do know that they have an oviparous style of reproduction and low fecundity. It is believed that reproduction occurs year round but larvae are found in greater numbers in the spring( Gibbs.R.H.Jr, 1984). Larvae viperfish are approximately 6 millimeter in length and look like tiny eels. It is not known if this species exhibit sexual dimorphisms, but its is thought that potential mates are attracted through a display of bioluminescent signals(Viperfish).
Importance
Viperfish are are an upper tropic level predator in the deep sea. Therefore, this organism plays a vital role upon the ecosystem that it inhabits. The viperfish is caught the most in deep sea trowling nets. Unfortunately this is the best method of catching and understanding this organism. A viperfish has not been able to survive captivity more than several hours after being brought to the surface. The viperfish is the most abundant species of bony ray-finned fishes in the deep sea. It is used to study bioluminescence as well as predation in the deep. There is obviously much more to learn about the viperfish and further research needs to be continued.
Work Cited
"Creatures of the deep sea"The Sea.Web.5 Feb.2015<http://www.seasky.org/deep-sea/viperfish.html>

Gibbs.R.H.Jr, 1984. Chauliodontidae. p. 336-337. In P.J.P. Whitehead, M.-L. Bauchot, J.-C. Hureau, J. Nielsen and E. Tortonese (eds.) Fishes of the north-eastern Atlantic and the Mediterranean. UNESCO, Paris. Vol. 1. (Ref. 4759)
"Viperfish" Viperfish.Web.5 Feb. 2015.< http://www.gma.org/fogm/Chauliodus_sloani.htm>

---
Coryphaenoides armatus (Abyssal grenadier fish)
Thomas Renninger Jr.

Coryphaenoides (Nematonurus) armatus or the Abyssal Grenadier Fish
Kingdom: Animalia
Phylum: Chordata
Class: Actinopterygii
Order: Gadiformes
Family: Macrouridae
Genus: Coryphaenoides (Nematonurus)
Species: C. armatus
The C. armatus is a deep marine water fish that resides in the bathypelagic level at about 282 - 5180m of depth.
A lot is unknown about these fish as is all deep water marine species.
Characteristics
2 dorsal spines
123-124 dorsal soft rays
No anal spine; 115 anal soft rays
Large eyes with a large head
Elongated snout that is somewhat conical
Small mouth; inferior/subterminal position
Body tapers after the first dorsal fin giving it a pointed caudal fin
Has a light organ that extends midway between the origin of the anal fin and ventral insertion
Color: Brown body with a bluish abdomen
This species resides mostly on the continental rise. C. armatus feeds on benthic invertebrates when young such as crustaceans and holothuroids. As this fish ages though it switches to primarily mesopelagic adn bathypelagic fish, sea urchins adn cephalopods. It hunts out its food as most of its food source are mobile animals, making it an avid predator in the deep.
The sex ratio of this organism is 2.6 males to 1 female. The max length of this fish is said to be 102cm long for a male/unsexed specimen.
Since this fish is very elongated, it has developed a subcarangiform locomotion from the movements of its body and/or caudal fin.
Important to temperate waters and associated with soft-bottom habitats.
Studies
Charlie-Gibbs Fracture Zone near MAR
In a exploritory study done in August 2013 by Nicola Cousins and team C. armatus was the most abundant species observed. The study took place at teh Northern Mid-Atlantic Ridge (north adn south of teh Charlie Gibbs fracture zone). Baited cameras were used to observe the scavengers who resided in this area. C. armatus showed shorter arrival times and larger body sizes in the northern zone. This suggests a higher population density and higher food availability in this area. The study aimed at investigating the diversity of dermersal fishes by using baited lander deployment cameras over several years.
The baited cameras were called Photographic and Acoustic Landers (PAL) and were equipped with digital cameras and bait. There were a total of 19 deployments: six at the southeast site, three at the southwest site, and five at the northeast and northwest sites. They were to take pictures for every 60 second intervals. Depth at which these cameras were set was approximately 2500 meters of depth on the seafloor.
C. armatus was the most abundant species observed during this study. This species was found within groups at the southeast, southwest and northwest sites but was absent at the not at the northeast site. Nevertheless, it was seen at every site.
Other species documented during this study included:
Hydrolagus affinis
Bathyraja richardsoni
Halosauropsis macrochir
Histobranchus bathybius
Synaphobranchus kaupii
Corphaenoides brevibarbis
Coryphaenoides mediterraneus
C. leptolepis
Antimora rostrata
Spectrunculus crassa
Electrophoretic and biometric variability
The species Coryphaenoides armatus is considered to be a cosmopolitan species and has been observed throughout North Atlantic and Southern Oceans abyssal depths. Yet, in the eastern North Pacific it is predominantly found near the continental rise adn slope. In terms of biomass of the deep ocean, C. armatus is the most important abyssal grenadier along the continental rise but little is known about its geographical variability. Wilson and Waples (1983) noted that this species appears ubiquitous in the Atlantic at depths 2000 meters or greater where the Pacific species is distributed along the continental rise.
C. armatus specimens were observed from the western North Atlantic and the eastern North Pacific through 27 presumptive gene loci. They were compared electrophoretically and biometrically. Around 6 or 7 polymorphic loci showed only minor differences while one locus, phosphogluconate dehydrogenase, showed a fixed difference.
Electrophoretics was taken from frozen specimens from the Scripps Institution of Oceanography. Biometric data showed more major differences then the minor electrophoresis differences. The interocean genetic distance was observed to be very low across 22,000 kilometers seperating the sites. While 3 of 7 biometrics differed showing an apparent difference. Grenadiers from the North Pacific usually have a narrower interorbital space, shorter dorsal interspace, more soft rays in 1st dorsal and more pelvic fin rays than grenadiers from the western North Atlantic/Eastern South Pacific. This shows a disjunction of C. armatus in the Pacific at the Gulf of Panama. This suggests that North Pacific grendiers are a subspecies, C. armatus variabilis, that is morphologically distinct from C. armatus armatus subspecies.
Citations
Cohen, D.M., T. Inada, T. Iwamoto and N. Scialabba (1990). An annotated and illustrated catalogue of cods, hakes, grenadiers and other gadiform fishes known to date. FAO Fish. Synop., 125(10), p442. Web. <fishbase.org>
Wilson, R.R. and Waples, R.S. (1984). Electrophoretic and biometric variability in the abyssal grenadier Coryphaenoides armatus of the western North Atlantic, eastern South Pacific and eastern North Pacific Oceans. Marine Biology 80: 227-237. Web.
Cousins, N.J., Linley, T.D., Jamieson, A.J., Bagley, P.M., Blades, H., Box, T., Chambers, R., Ford, A., Shields, M.A., Priede, I.G. (2013). Bathyal demersal fishes of Charlie-Gibbs Fracture Zone region (49-54N) of the Mid-Atlantic Ridge: II. Baited camera lander observations. Elsevier 98: 397-406. Web.
---
Coryphaenoides Rupestris
Figure 1. Coryphaenoides rupestris

Appearance:
Coryphaenoides rupestris can grow to be about 110cm in length and weigh up to 1.7 kg (Fishbase and FAO). Their body coloring can range anywhere from a medium brown, to a gray. Starting at the head-end of the fish, the roundnose grenadier has a broad head with a large rounded snout (Fishbase and FAO). On the chin they possess a small barbell that assists in the search for food in the deep sea (Fish base and FAO). Their scales take on a thin, oval shape that tapers at the end, coming to a point with one large scute on the nose region (Fishbase). The fins of the roundnose grenadier are blackish to brownish gray (Fishbase). Their dorsal fin is comprised of 2 spines with 8 to 11 rays. Their pectoral fin rays range from 7 to 8 with no spines (Fishbase)
Distribution:
Figure 2. Known distribution of Coryphaenoides rupestris
The roundnose grenadier can be found in northwestern and northeastern Atlantic waters around Greenland and Iceland (White 2010). More specifically they settle around the Mid-Atlantic Ridge and continental slopes. In rare cases, they have been spotted east of the Andros Islands in the Bahamas. They inhabit waters as shallow as 180m and as deep as 2,600m. It has been found that the highest biomass can be found in waters around 1,500m (Priede 2013).
Types of Environments:
Coryphaenoides rupestris can be found in the benthopelagic to bathypelagic environments (White 2010 and Fishbase). Benthopelagic refers to the bottom of the ocean, where the water meets the sand at the end of the continental slope. The bathypelagic environment is located towards the bottom of the continental slope. Both of these areas are aphotic so little to no light seeps down to those depths.
Feeding Ecology/ Strategy:
Due to their smaller tooth size, the roundnose grenadier mainly feeds on copepods, amphipods, mysids and ostracods (White 2010). These fish are diurnal so they feed primarily during the day (FAO 2015). Since they inhabit high depths, they have a relatively low metabolic rate and energy store. As a result, they are typically slow moving or "sit and wait" predators (White 2010). Using this predatory strategy saves energy necessary for other processes
How Observations Have Been Made:
Since these fish can be found in a wide range of depth so the way in which they are observed varies greatly. Trawls are a popular use in shallower waters (Preide2013). At deeper depth, digital cameras and video connected to automatic vehicles are used to capture images of the deep sea (Preide 2013). A few names for these devices include SHRIMP (Seafloor High Resolution Imaging Platform), PAT (Photo Acoustic Lander) and ROV (Remotely Operated underwater Vehicle) (Preide 2013). ROVs are also used at shallower depths in addition to the deep sea.
Importance to Deep Sea Biology:
Due to the wide distribution of the roundnose grenadier, it is reasonable to question the population structures in different areas. Scientists have discovered that roundnose grenadier in different areas of the deep North Atlantic have slightly different genetic make-up. They believe there is a barrier to gene flow between the Charlie-Gibbs Fracture Zone, which separates the less saline waters of the subpolar gyre from the warm waters of the subtropical gyre. It is hypothesized that this division can be traced back to the juvenile stages of the life history (White 2010). As adults, the roundnose grenadier is a slow moving fish that does not disperse too far. The large ranging dispersal occurs during the pelagic juvenile stage (White 2010). Another apect of the roundnose grenadier that contributes to life in the deep sea is their mode of reproduction. They are batch spawners meaning that they put out multiple "batches" of eggs in one spawning season (Coryphaenoides rupestris, Fishbase)
Other Interesting Information:
The roundnose grenadier is well known in the fisheries industry that operates in the north Atlantic Ocean. They are primarily harvested in bottom trawls that run at depths of 500m to 1500m. They are considered a target specie in deep sea fisheries (Preide 2013). They are primarily sold as frozen fish, but also serve as fishmeal. Currently, the roundnose grenadier is facing overexploitation in the North Atlantic.
Citations:
Coryphaenoides rupestris. Fishbase. www.fishbase.org/summary/332
Preide, Imants G., et al. 2013. The ecosystem of the Mid-Atlantic Ridge at the sub-polar front and Charlie–Gibbs Fracture Zone; ECO-MAR project strategy and description of the sampling programme. Deep Sea Research 98: 231-243
Species Fact Sheets: Coryphaenoides rupestris. Food and Agriculture Organization of the United Nations. http://www.fao.org/fishery/species/3035/en
White, Thomas A., Joanne Stamford, and A. Rus Hoelzel. 2010. Local selection and population structure in a deep‐sea fish, the roundnose grenadier (Coryphaenoides rupestris). Molecular ecology 19.2: 216-226.
---
Pacific Hagfish (Eptatretus stoutii)
Description
The Pacific hagfish (Eptatretus stoutii) lives in the mesopelagic and abyssal regions of the Pacific Ocean. It is a primitive fish whose origin and morphology dates back to the Paleozoic era, 450 million years ago. A survey of California fisheries showed the average hagfish to be between 12-18 inches, however they can grow to be about 24 inches in length. The Pacific hagfish will typically be brown, grey or tan on top and more lightly colored underneath. The body of the hagfish is cylindrical and elongated, swimming in a snake-like motion described as anguilliform locomotion. It has a row of 10-14 slime pores on each side of its body. The hagfish has multiple hearts, no true stomach, no scales and no paired fins. A mature Pacific hagfish will produce 20-30 eggs per reproductive cycle. Pacific hagfish hatch into fully functional juvenile hagfish. There is no parental contribution after egg-laying (McCrae 1997). The reproductive season and cycle length for hagfish is currently unknown.
Distribution
Pacific hagfish are usually found in depths ranging from 60 -3,000 feet (30 –900 m). They prefer mud and silt bottom where they can burrow and search for small invertebrate prey items.
Feeding
Hagfish have a very good sense of smell and touch powered by a single nostril and set of barbels. These heightened senses enable it to find food despite having rudimentary vision, which can only detect light. The hagfish's jawless mouth consists of two parallel rows of pointed keratinous teeth; these teeth are secured to what are called rasping dental plates. The fish is an opportunistic feeder, which eats small invertebrates from the silt or mud bottom where they typically live. The hagfish's feeding strategy relies heavily on dead and rotting animals that float down from the pelagic zone. As is typical with deep water species, the hagfish has a very slow metabolism and can go as long as seven months without feeding. Hagfish are typically one of the first scavengers to arrive at a fallen carcass, which they will typically infiltrate and consume from the inside out. Studies have shown that the skin of a hagfish allows amino acids and other organic nutrition to flow directly through its skin; this capability is unique to the hagfish among all other vertebrates. Working as a mode of marine waste disposal is an efficient feeding strategy for the deep water hagfish. Additionally, they are an important part of the deep sea ecosystem, because they will help to prevent any accumulation of dead animals on the sea floor. Also this plays an important role to expedite global cycles of phosphorus, carbon and nitrogen.
Other Information
The section of the fishing industry devoted to capturing hagfish has grown in recent years. Being that their attraction to any large food source, the Pacific hagfish can be readily caught in traps baited with fish. Hagfish skin is used to make clothing, belts, and other accessories in many parts of the world. The pacific hagfish is also used as a source of food in many Asian countries. When disturbed, proteins are released from slime glands in its skin that react with saltwater to form a mucilaginous barrier. Hagfish can create extremely large amounts of slime in a matter of minutes. This strategy makes the hagfish an unfavorable prey item for almost all predators; though it is occasionally preyed upon by marine mammals and large invertebrates. One recent study suggests that the Pacific hagfish can survive anoxia by manipulating its metabolic rate (Sandbloom 2011). There is another similar hagfish species that may occur in Pacific waters. The black hagfish (Eptatretus deani), is found in deeper water than the Pacific hagfish. Having darker coloration exhibiting purple to black pigmentation on its dorsal side, the black hagfish also has a shorter head in proportion to its body.
References
Cavalcanti MJ., Gallo V., Panbiogeographical analysis of distribution patterns in hagfishes (Craniata: Myxinidae), Blackwell Publishing. Journal of Biogeography, 35, no. 7 (2008): 1258-1268
"Hagfish Identification." California Department of Fish and Wildlife. http://www.dfg.ca.gov/marine/sfmp/hagfish-id.asp.04/02/2015
McCrae, J. 1997.Pacific Hagfish. (On-line). Oregon Developmental Species. Accessed February 05, 2015 at http://hmsc.oregonstate.edu/odfw/devfish/sp/hagfish.html.
Sandblom E., Richards JG., Farrell AP., 2011 "Anoxic survival of the pacific hagfish(Eptaturus stoutii)" Journal of comparative physiology. Biochemical, systemic, and environmental physiology,181(3): 361-71
Spitzer RH., Downing SW., Koch EA., 1979, Metabolic-morphologic events in the integument of the Pacific hagfish (Eptatretus stoutii). Cell and tissue research, 1979 Mar 19; 197(2): 235-55
---
Velvet Belly Lantern Shark- Etmopterus spinax
Etmopterus spinax is a deep water squaliform.
Depth range- 100m-2000m
Length- 8-48 cm, Females are generally bigger than males
Bentho-pelagic. According to Aranha, E. spinax will most likely be found on slope bottoms at depths between 500-700m.
Geographic distribution- Eastern Atlantic, off the coast of Iceland, Norway, Western Europe, Some Mediterranean, Africa, and around the Mid-Atlantic ridge
Mostly feeds on macroplankton, cephalopods, crustaceans, and small teleosts
The shark has a stout body, hints the velvet "belly" name. It is fairly dark but has a slightly lighter coloring on top than bottom. Along the body there are nine luminous photophore zones. These zones appear during embryo growth and are used for identifying each other during hunting, mating, and general swimming. According to Claes the nine luminous zones are: rostral, ventral, caudal, infra-caudal, mandicular, pectoral, laterla, and infra-pelvic.
Etmopterus spinax is often caught as by-catch by deep sea trawls.
Works Cited
Aranha, Ana, Gui Menezes, and Mario Rui Pinho. Biological aspects of the velvet belly lantern shark, Etmopterus spinax (Linnaeus, 1758) off the Azores, North East Atlantic. Marine Biology Research, 2009; 5: 257-267.
Claes, Julien M. and Jérôme Mallefet. Functional physiology of lantern shark (Etmopterus spinax) luminescent pattern: differential hormonal regulation of luminous zones. The Journal of Experimental Biology 213: 1852-1858. Feb 20, 2010.
Carpenter, Kent E. and Arlene G Sampang. Etmopterus spinax (Linnaeus, 1758) Velvet belly. Species Summary. www.fishbase.org.
Seapics.com. Marine Wildlife Photography. Velvet belly lantern shark Etmopterus spinax.
Zaera, Diana. Occurrence of the velvet belly, etmopterus spinax (elasmobranchii: etmopteridae) in angolan waters, south-east atlantic. Marine Biological Association of the United Kingdom. Journal of the Marine Biological Association of the United Kingdom85.5 (Oct 2005): 1119-1120.
---
Eurypharynx pelecanoides(Gulper Eel)
http://www.fishesofaustralia.net.au/home/family/147
Source: Ken Graham. License: All rights reserved.
Fig. 5. Pelican Eel, Eurypharynx pelecanoides, captured in a mid-water trawl
northeast of Cape Howe, NSW, in 0-540 m over a bottom depth of 3600 m.
Taxonomy
Kingdom: Animalia
Phylum: Chordata
Class: Actinopterygii
Order: Saccopharyngiformes
Suborder: Saccopharyngoidei
Family: Eurypharyngidae
Genus: Eurypharynx
Species: pelecanoides
Description
Eurypharynx pelecanoides goes by several common names including the Pelican Gulper, Umbrellamouth Gulper, and Gulper Eel. It was given these names for its unmistakably large mouth that resembles that of a pelican. Aside from this main feature, the gulper eel possesses a very long thin tail that is splotchy brown or black in color, lacks scales, and ends in a bioluminescent caudal appendage (Fig. 1) (EOL).
http://bioweb.uwlax.edu/bio203/s2007/rattray_mari/
Fig. 1. Illustration of a live Eurypharynx pelecanoides specimen
Distribution
The gulper eel was originally thought be extremely rare, but in recent decades has been caught relatively frequently (Nielsen et. al. 1989) in all oceans, especially the warmer waters in the Pacific and branching even into the coldest depths off of Iceland in the north Atlantic (Fig. 2) (EOL). They are a nektonic, or free-swimming open water species, and specimens have been recorded at depths from 500 m down to 7,500 m (Fig. 3) (EOL). They are generally collected with nets, but their soft, thin, postanal tails are often lost in the collection process so a linear function is used to determine total length of speciemens from their preanal length (Nielsen et. al. 1989).
http://eol.org/data_objects/19112619 ©AquaMaps
Fig 2. Native global range of Eurypharynx pelecanoides, where red is the greatest
probability (0.80-1.00) and yellow is the lowest probability (0.01-0.19) of occurrence.
http://www.realmonstrosities.com/2011/07/gulper-eel.html
Fig. 3. Depth range of Eurypharynx pelecanoides
Feeding
Perhaps the most important aspect of the Gulper Eel's ecology is their feeding. Their diet has been found to be very broad, even in the deep sea, including crustaceans, cephalopods, fishes and smaller invertebrates (EOL). Due to the morphology of the mouth, they are able to capture prey much larger than themselves by engulfing the target and surrounding water in their large expandable mouths and removing excess water through the gills (Nielsen et. al. 1989). Even with forward facing eyes and a prominent, external, sensory lateral line (McCosker et. al. 1998), they are not very discriminant with their prey and unintentionally eaten Sargasso weed is often found in their gut (Nielsen et. al. 1989).
Aside from their massive mouth, gulper eels posses a glowing pink and red tip on their tail that is thought to act as an attractor to prey (Fig. 4) (McCosker et. al. 1998).
http://www.fishesofaustralia.net.au/home/family/147
Source: Julian Partridge & Camilla Sharkey / University of Bristol. License: All rights reserved.
Fig. 4. The light organ on the tip of the tail of a Pelican Eel, Eurypharynx
pelecanoides- captured in a mid-water trawl in the Peru-Chile Trench.
Unique Genes!
While most vertebrates have similar mitochondrial gene order (aside from local variations), gulper eels were found to have the only known example of a genomic scale mitochondrial gene rearrangement in vertebrates (Inoue et. al. 2015). Eurypharynx pelecanoides and closely related organism Saccopharynx lavenbergi have significant gene rearrangement originating from a common normal vertebrate gene ancestor (Inoue et. al. 2015). This discovery separated the deep-sea gulper eel from all other eels on the taxonomic tree, although they still share a common ancestor.
References
Encyclopedia of Life (EOL). Eurypharynx pelecanoides Pelican Gulper. [Internet]. [cited 2015 Feb 2]. Available from http://eol.org/pages/1014934/details
Inoue, Jun G, Miya, Masaki, Tsukamoto, Katsumi, Nishida, Mutsumi. 2015. Evolution of the Deep-Sea Gulper Eel Mitochondrial Genomes: Large-Scale Gene Rearrangements Originated Within the Eels. Oxford Journal. 1917-1924.
McCosker, John E. Paxton, J.R, Eschmeyer, W.N. 1998. Encyclopedia of Fishes. San Diego: Academic Press. pg. 90.
Nielsen, Jorgen G, Bertelsen, E, Jespersen, Ase. 1989. The Biology of Eurypharynx pelecanoides (Pices, Eurypharyngidae. Acta Zoologica. 70: 187-197.
---
Macropinna microstoma (Barreleye)
Alexander Anderson
Macropinna microstoma (barreleye)
Fig 1: One of the only in situ photographs of the barreleye, taken from the Ventana ROV. (http://i.ytimg.com/vi/RM9o4VnfHJU/maxresdefault.jpg)
Description:
Macropinna microstoma was first described by scientists in 1939, but was only recently studied and photographed. This fish belongs to the class Actinopterygii (ray-finned fishes) and the family Opisthoproctidae (barrelfishes or spookfishes). Adults are dark brown and have been seen from 15 cm to 44 cm. The main feature of this fish is its transparent head, which is actually a clear shield of integument that contains a fluid filled cavity which holds the eyes. Though it may seem that the eyes of the fish are the small dark areas above the mouth, these are actually the nares (nostrils). The eyes are the large green lenses that are vertically oriented in the above picture. The barreleye is a solitary fish, and is usually seen sitting still in the water column which it is able to do with its large fins. This fish is oviparous and has a planktonic larval form (Fishbase).
Distribution:
The barreleye has been found at depths between 585 meters and 2104 meters, where the water ranges from 1.9°-3.64°C. The main habitat for these fish is in bathypelagic of the North Pacific at knolls and seamounts (Encyclopedia of Life).
Fig. 2: Global distribution of the barreleye. (http://media.eol.org/content/2011/11/09/01/03816_orig.jpg)
Feeding:
The barreleye has a small terminal mouth and eyes with large green lenses for finding food. The eyes, which are orientated vertically, do not normally show what is in front of the fish's mouth. This would make it very difficult for the fish to ingest anything because it would not be able to see it. To counteract this problem, the fish has adapted an impressive visual complex, which is discussed in the section, The Eyes. From stomach content analyses, it is known that the barrelfish primarily eats siphonophores, small crustaceans, and other mixed zooplankton (Fishbase). In order to find food, these fish sit still in the water column with their eyes facing upward. Since they are always looking upward, the fish are able to see shadows of objects above themselves, which is how they find prey (Encyclopedia of Life).
Observations:
Specimens of this fish have been collected mainly in midwater trawl nets in areas where the bottom depth was between 1600 meters and 3600 meters (Encyclopedia of Life). The only photographs and in situ observations of this species were taken by Ventana, an ROV used by the Monterey Bay Aquarium Research Institute (MBARI) (see Fig. 3) (MBARI).
Fig 3: The barreleye as seen from the Ventana ROV. (http://www.mbari.org/midwater/macropinna/images/OL804_31_55_12_jpg.jpg)
The Eyes:
One of the most important findings regarding this species is the incredible adaptions that are seen in the morphology of the eyes. As mentioned above, these fish have large eyes with green lenses that are normally oriented so that the fish sees what is directly above it (A in Fig. 4). This is a great adaptation for seeing shadows of objects that are higher in the water column, while all the fish has to do is sit still in the water, expending little energy. But since the eyes are not directed towards the mouth, this causes a problem when trying to ingest anything, because the fish cannot see where the prey is located relative to its mouth. To solve this problem, the fish has adapted to be able to move its eyes rostrally so that they are directed towards the mouth (B in Fig. 4). This is quite a remarkable adaptation and it is incredibly useful for a fish that needs to see what is above it and what is in front of it (Robison and Reisenbichler, 2008).
Another important adaptation is that the fishs' eyes have green lenses. It is known that green lenses are able to filter out the brightness of sunlight. This is important because several of the barrelfish's prey bioluminesce to try to blend in with downwelling sunlight so that predators cannot see it from below. Due to the barrelfish's green lenses, it is able to distinguish its prey from the sunlight, and it can then swim upward and rotate its eyes rostrally to ingest its prey (Robison and Reisenbichler, 2008).
Fig. 4: In photo A, the eyes are directed dorsally and in photo B, they are directed rostrally. (Robison and Reisenbichler, 2008)
References:
"Barreleye (Macropinna Microstoma)." Encyclopedia of Life. N.p., n.d. Web. 04 Feb. 2015.
Froese, Rainer. "Macropinna Microstoma." FishBase. N.p., n.d. Web. 04 Feb. 2015.
"MBARI Midwater Research - Macropinna Microstoma." MBARI Midwater Research. N.p., 25 Feb. 2009. Web. 04 Feb. 2015.
Robison, Bruce H., and Reisenbichler, Kim R.. "Macropinna Microstoma and the Paradox of Its Tubular Eyes." Copeia 2008.4 (2008): 780-84.
---
---
Physeter microcephalus

(Sperm Whale)


TJ Lysiak


Physeter microcephalus(Sperm Whale)
Description:
Physeter microcephalus also known as the Sperm Whale or Pot Whale which is classified as odontocetes or toothed whale. Early in the era of commercial whaling males were mainly poached and when the fishermen cut into the head they found a large orifice filled with white milky substance. Mistaking this for a large supply of gametes they dubbed this species the Sperm Whale. (WDC) The Sperm Whale is commonly identified from a distance from its distinct "blow" and giant square head. In most individuals the head makes up more than a third of its total body mass. The body is dark grey or a brownish grey and has a noticeable wrinkly skin. Another identifying feature of this species are rings found around its mouth and head which are caused by its major source of food, the Giant Squid. Sperm Whales are also the most sexually dimorphic of all cetaceans, where males can outweigh females by up to forty tons. (Jaquet)
Fig 1: Sperm Whale diving (WDC)
Distribution and Ecology:
Sperm Whales are found across all of the world's oceans excluding the Arctic Ocean. Males of this species between the 1930s and the 1980s where high prized targets for the whaling industry, mainly Japan, and this left the population decimated. In 2008 this species was listed as vulnerable after hundreds of thousands were harvested from the ocean. Male Sperm Whales are found in areas of high mass of food and migrate as this mass changes and mainly reside in colder waters. Females on the other hand are usually found in warmer waters with their calves to help prevent predation. (Jaquet) Sperm Whales can be found off the coast but prefer to be in deeper waters due to their massive size. Populations are usually observed with large sexually mature males living a solitary life only joining groups of females during the breeding season, groups of females with their calves and groups of immature males up to the age of twenty seven which are called bachelor pods. These whales are known for their deep free diving capabilities and are said to stay down for up to two hours and reach a depth of 3 kilometers. (WDC)
Fig 2: Distribution map for the Sperm Whale (WDC) *Light blue indicates this distribution
Feeding:
Having such a large body and constantly diving burns a lot of energy, which in turn the whales need a large plentiful food source. This is rarely found in the surface waters of the open ocean and in turn they turn to the deep. The primary food source for these whales are squid, which regularly leave battle scars on their face. Very little is known about their feeding habits, and it is thought that they use eco location to locate prey at depths where light is no longer available. (Kagari) To learn more on this scientists tagged male Sperm Whales off the coast of Ogasawara Islands to observe their techniques. Tagging of these animals is the standard for observing them due to the depths at which they dive. The scientists found that around 400 meters these whales picked up speeds and began to burst. They also noticed a pattern where the animals not only accelerated downward but then again upward. This is thought to be a pattern paralleling a hunting or chasing method. (Kagari) They also recorded that they accelerated themselves with rapid stroking and noted several abrupt stops which they achieved through changing their massive body's orientation in the water column. The squid in which they hunt are fast, strong and very muscular. The rapid bursts of speed are thought to be necessary to the whale to catch and immobilize the prey. (Kagari)
Contributions to the Deep:
Although these whales are usually associated with the surface waters where they are typically seen, they still have an impact on their hunting grounds of the deep. From a predation point of view they are most certainly considered an apex predator and there have not been any indication of an animal hunting them in the deep; although other species of whales hunt smaller specimen near the surface. Their greatest contribution to the deep comes by way of death, or otherwise called a "Whale Fall". (Mascarelli) It is estimated that some 70,000 individuals of whale fall every year along migration paths due to various reasons including starvation, and disease. Of course not all of these are Sperm Whales, but all the same they die just like the rest for whatever reason. In relevance to how massive the oceans really are a whale fall is quite uncommon and rarely found on expeditions to the deep. When a whale does fall it provides a massive amount of nutrients to the deep sea floor which is usually barren. It is estimated that one dead whale on the sea floor provides organisms with as much nutrients as thousands of years of marine snow. There have been roughly 60 new species discovered at whale falls and is said to become its now ever changing ecosystem for years to come in which most of these species are uniquely adapted for life on a whale carcass. (Mascarelli)
Fig 3: Stages of a whale fall: (Nature)
References:
Kagari Aoki1, Masao Amano, Kyoichi Mori, Aya Kourogi , Tsunemi Kubodera , Nobuyuki Miyazaki. 2012. "Active hunting by deep-diving sperm whales: 3D dive profiles and maneuvers during bursts of speed." Marine Ecology Progress Series. 444: 289-301.
Jaquet, Nathalie, Stephen Dawson, Elisabeth Slooten. 2000. "Seasonal distribution and diving behaviour of male sperm whales off Kaikoura: Foraging implications." Canadian Journal of Zoology. 78.3: 407-419.
"Sperm Whale." WDC, Whale and Dolphin Conservation. Web. 16 Jan. 2015. <http://us.whales.org/species-guide/sperm-whale>.
Mascarelli, Amanda. "Dead Whales Make for an Underwater Feast." Audubon. 20 June 2012. Web. 16 Jan. 2015. <http://www.audubon.org/magazine/november-december-2009/dead-whales-make-underwater-feast>.
Nature.com. Nature Publishing Group. Web. 1 Feb. 2015. <http://www.nature.com/scientificamerican/journal/v302/n2/box/scientificamerican0210-78_BX1.html>.
---
The Giant Siphonophore: Praya Dubia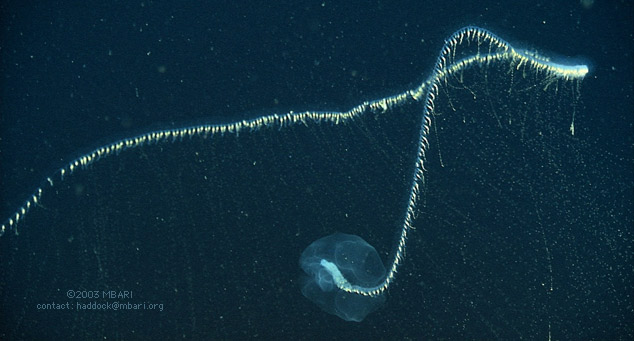 Praya dubia, commonly known as the giant siphonophore, was first described by Quoy and Gaimard in 1833 in a sample collected off the coast of Kangaroo Island in South Australia. It belongs to the taxonomic phylum Cnidaria and the class Hydrozoa (Schuchert and Mapstone, 2014). The most well known member of the siphonophores is Physalia physalis, the Portugese man-o-war, but it floats on the surface of the ocean, while Praya dubia lives deep within the water column in the aphotic zone and doesn't come to the surface. Siphonophores are in fact a collection of invertebrate organisms, called zooids, working together to navigate and feed. Praya dubia has two swimming bells located at the anterior end of the zooid colony named nectosomes (Mackie et al. 1987). The nectosomes expand and contract in order to push and pull water through their body cavity and move the colony through the water in the search for prey, but can not attack or feed once prey is located. The other type of zooid, the siphonosome, is located behind the nectosome in chains, which have been measured at up to 50 meters in length. Siphonosomes have tentacles and digestive enzymes which are employed once potential prey organisms are located. After both mechanical and chemical mechanisms are triggered, specialized cells in the tentacles called cnides release a barbed and chemically toxic nematocyst into the epidermis of the prey. Once stunned or killed, the prey is pulled in by the tentacles to the digestive siphonosomes, where nutrients are spread throughout the colony, including to the nectosome. Praya dubia have also been observed employing blue bioluminescence, possibly for the attraction of prey (American Museum of Natural History, 2014).

Distribution

*No data point for first described specimen from Kangaroo Island, South Australia
Praya dubia specimens have been found on the east and west coasts of both the Pacific and Atlantic Oceans, as well as in the northern Indian Ocean. Although few specimens have been sampled, their distribution seems to be mesopelagically global and limited by technology and time. Praya dubia are a deep sea siphonophore species, unlike the Portugese man-o-war, and never come to the surface unless brought there by human activity. They have a fluid-filled hydrostatic skeleton acclimated to immense amounts of pressure and will burst when brought to the surface, making it difficult to study a whole and complete specimen (Mackie et al., 1987). Also, use of manned and unmanned rovers is limited and expensive, so it will require more time and effort in order to better understand the distribution and migration habits of Praya dubia.
Importance
The siphonophore body structure is very unique in terms of its morphology, and Praya dubia is no exception to this. Praya dubia has been noted as the longest known creature currently living in our oceans, longer than blue whales. It is incredible in its ability to form from a single polyp into colonies over a hundred feet long made up of differentiated and morphologically specialized zooids. Members of the class Hydrozoan have a two-part life cycle consisting of a polyp, which is often stationary, and a free-swimming medusa (American Museum of Natural History, 2014). The siphonophore is unique, not only in it's colonial form, but the fact that all of the attached zooids budded asexually from a single fertilized medusa egg and remain joined together even in mature medusae forms (Totton, 1965). This siphonophore has no know natural predator (besides human interation with oceanic processes) and is still not very well known, with the difficulties in traveling to the deep to view them in their natural environment, as well as difficulties associated with attempting to collect and study them in a laboratory setting.
References
American Museum of Natural History. 2014. Ocean: The Definitive Visual Guide. Dorling Kindersley Limited, 260-261.
Mackie, G. O., P. R. Pugh, and J. E. Purcell. 1987. Siphonophore Biology. Advances in Marine Biology 24:97-262.
Schuchert, P., Mapstone, G. 2014. Praya dubia (Quoy & Gaimard, 1833). In: Schuchert, P. (2014) World Hydrozoa database. Accessed through: World Register of Marine Species.
Totton, A. K. 1965. A Synopsis of the Siphonophora. British Museum of Natural History, London.